We are leaving the elevator to the gallery of the level of 342 m a.s.l ( as many people have been incorporated into the Church through the sacrament of Baptism during the pontificate of JP II. While driving we look through the glass-enclosed elevator on the skyline of Ropczyce and the surrounding area and admire the technical side of the building which in this segment is red and consists of 3 main segments with a length of 27 meters which symbolizes the 27 years of his pontificate JP II.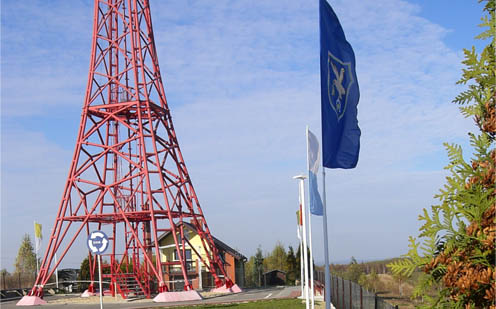 Inside the elevator is located altimeter display showing current height a.s.l.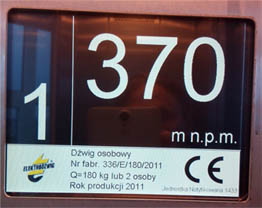 Gallery observation illustrates the globe here we get a lift to a height of 30 m. Which symbolizes the start of public teaching by Jesus. The gallery is a cornerstone of Mount Sinai blessed by Pope John Paul II in Krakow August 18, 2002 year.
In preparation for the altar on which there will be Stations of the Cross entered in 5 clocks to symbolize 5 continents. Next to the altar is a painting of the bridge and the inscription " PONTIFEX MAX" – " High Priest " ( literal translation of "Builder of bridges" ) refers to Jesus Savior of the World .
With good visibility ( inversion) from the gallery you can see the Tatra mountains as well as power Połaniec , cross at the top Liwocz and other interesting objects .
From the gallery you can go out for the cross itself at the height of 33 meters which symbolizes the year of death of the Lord Jesus. From this point we look at white 14 -meter cross that symbolizes the day of death of the Lord Jesus . According to the Jewish calendar Jesus died the 14th of Nisan 33 years .
As you can see in the pictures , you can also look through the glass roof on the structure of the cross.
Check the elevator to the observation gallery is possible on Saturdays and Sundays between 15.00 – 19.00 from May – October after prior telephone contact .
Tel. 733 571 161